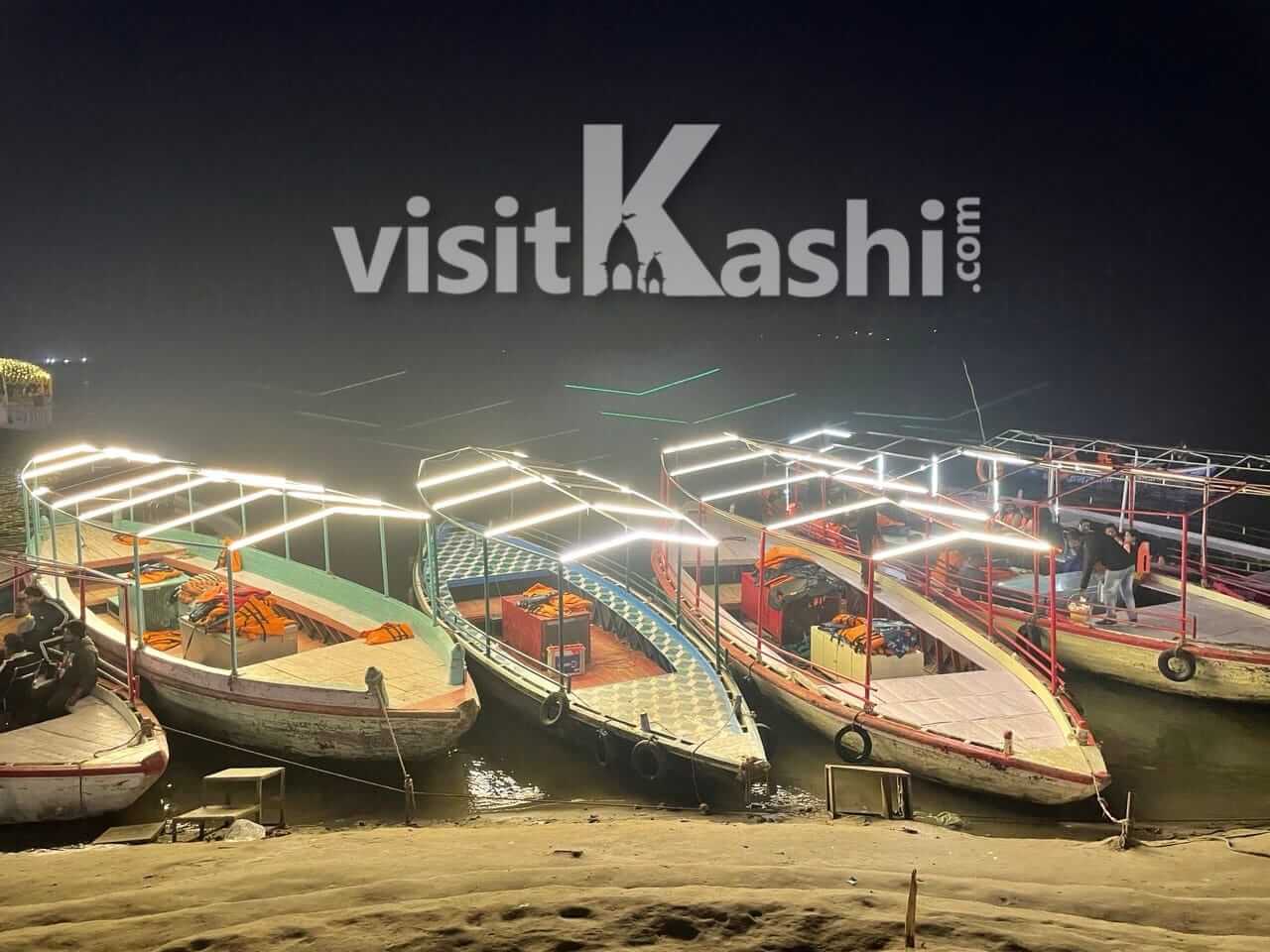 Private Motor Boat for Evening Ganga aarti and ghat darshan in Varanasi.
The same Boat shown in the Image is based on subject to availability. Due to High Demand Same day Boat may be subject to availability. For Booking Confirmation WhatsApp us.
Ganga Aarti Place
Dashaswamedh Ghat
Evening Ganga Aarti Time ?
06:45 PM-07:30 PM
Pickup from (Your Nearest Ghat)
NAMO Ghat/Dashaswamedh Ghat/Assi Ghat
Reporting Time
05:30 PM
Boat Ride Timing
05:45 PM-07:45 PM (2hr)
Price 1-10 Pax (If More than 10+) ₹ 300/- Person

Lighting Motor Boat (Capacity 30 Pax)

₹ 3999/-*(Assi-Manikarnika) 3.5km- 50 Ghats
₹ 4999/-*(Assi-NAMO) 7km- 84 Ghats
During Ganga Aarti boat parked in front of Ceremoney at Dashaswamedh Ghat
Ghats Cover: Assi Ghat, Tulsi Ghat, Janki Ghat, Jain Ghat, Prabhu Ghat, Chet Singh Ghat, Niranjani Ghat, Shivala Ghat, Hanuman Ghat, Harishchandra Ghat, Narad Ghat, Pandey Ghat, Dashaswamedh Ghat, Dr. Rajendra Prasad Ghat, Manikarnika Ghat,.and so on NAMO Ghat
Ganga aarti takes place from 07:00 PM to 07:45 PM in the evening after sunset for around 45 minutes at the Dashashwamedh Ghat, Rajendra Prasad Ghat in Varanasi. Devotees started to come to see the Ganga Aarti at least one hour before. No Need to Book any kind of ticket or VIP Seat.
Meeting Point
Assi Ghat
Languages
English, Hindi
Includes

Life Jackets, Private Boat (Non Sharing)

Pickup From
FAQ about Boat Ride & Ganga Aarti Varanasi ?