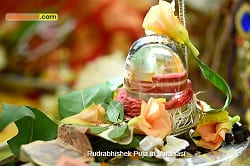 Lord Shiva is also known as Rudra and the Rudrabhishek is the ritual bath of Shiv Lingam. It is one of the most significant and popular ceremonies to please Lord Shiva and is seen as the greatest spiritual puja in all the vedic scriptures.
The term "Rudra" is used amply in the Vedas. Rudra means tempest or a violent storm. Rudra focuses on the destructive nature of Lord Shiva. Lord Shiva is both gentle and aggressive. He is both forgiving and merciless. He is everything. He is the beginning and he himself is the end. This is how his devotees perceive him.
Some philosophical and spiritual experts believe that Lord Shiva is called Rudra because of the Rudra Tandav Dance. It is believed that a robust, fearless, and enlarged Shiva performs the Rudra Tandav Dance in the cremation ground. He was unstoppable and furious.
Rudrabhishek Puja: Rudrabhishek is considered to be the purest, finest & compelling ritual of Hinduism. Lord Shiva, in the Rudrabhishek puja, is worshipped by giving the sacred bath along with flowers and other necessary material required in this Puja. Rudrabhishek can be performed on any day according to your ritual & belief. But basically, it is mainly performed every year in the month of Shravan.
BENEFITS OF RUDRABHISHEK PUJA:
Rudrabhishek brings wealth and harmony.
Removes negative energy and purifies bad karma.
Protects from evil and gives strength to deal with difficulties.
It can also eliminate the evil effects of various doshas in one's horoscope such as Rahu dosha, Shrapit dosha, etc.
This puja also helps in a healthy mind and good spirit.
It also removes the problems prevailing for a long time.
The main purpose of this puja is to wash off one's sins and afflictions.
This puja helps in bringing peace and happiness along with family togetherness.
Also, it is very beneficial for the people born with the Karka Zodiac Sign.
| | |
| --- | --- |
| Languages | |
| Includes | |
FAQ about Boat Ride & Ganga Aarti Varanasi ?